Best Personal Injury
Law Firm
in Orange County according to the LA Times Reader's Choice.
More Than
$100,000,000 Recovered
for our deserving clients in the past 5 years!
A Family of Attorneys
selected as "Super Lawyers", "Top 100" Trial Laywers, "Best Lawyers", "Multi-Million Dollar Advocates", and "10 Best" Personal Injury Attorneys!
Over 100 Years
Combined Experience
fighting for personal injury and wrongful death victims!
Las Vegas Personal Injury Lawyers
Your health and safety should be your business. Unfortunately, other people's actions and decisions can easily impact our wellness. Most of the time, these impacts are small. However, on some occasions, other people can seriously endanger our safety.
Personal injury law gives you the grounds to seek compensation if someone else harms you. Although accidents cannot always be avoided, you can seek restitution when someone endangers your health or safety. With the help of a Las Vegas personal injury lawyer from Easton & Easton, you can achieve financial support while you heal from your injuries.
Easton & Easton: The Best Las Vegas Personal Injury Attorneys
For many generations, our family has been fighting for the rights of injured individuals following an accident. We know how devastating an accident can be for both your health and your finances, so we work diligently to ensure that the responsible party pays for their error. Our goal is to make sure that you do not become financially responsible when your health has already been taken from you.
We understand the vulnerability that comes with these cases, and we do everything in our power to make sure that you are comfortable. We listen closely to your story before we advocate for you in court. When we are in the courtroom, we are ruthless in our pursuit of justice. When you allow us to fight on your behalf, you are giving yourself the very best chance at a personal injury settlement.
What Is a Personal Injury Claim?
Personal injury claims come in many forms, which can make them difficult to understand. However, all personal injury cases have one thing in common: they involve injuries that were caused by someone else's negligence.
Negligence looks differently depending upon the scenario. In general, negligence occurs when an individual or company fails to follow the law or rules in some way. By not following the law, the individual or company is neglecting their responsibility as a citizen. If this lack of responsibility leads to an injury, the responsible party needs to face the consequences of their negligence. The ability to file a claim for personal injury compensation allows that to happen.
For more than 25 years, attorney Douglas Easton has earned Martindale-Hubbell's highest AV Preeminent* peer review rating for ethical standards and legal ability.
Types of Personal Injury Claims
As mentioned, there are many types of personal injury claims. Understanding several general categories may help you identify a case if it happens to you.
Auto Accidents
The most common form of personal injury claim is automobile accidents. Many people drive or ride in cars every day, so there are plenty of opportunities for accidents to occur. A car accident may be eligible for a personal injury case if the other driver was behaving negligently and caused the accident. Negligence while driving may include:
Eating, drinking, or smoking
Texting or using the phone
Turning to engage with passengers or children in the vehicle
Speeding, swerving, or engaging in road rage
Becoming distracted by objects or people on the side of the road
Ignoring road signs, signals, or laws
Any time a driver does not follow the rules of the road, they are behaving negligently. Because of this, many accidents are eligible for personal injury cases if someone gets hurt. The only cases that may not be eligible for personal injury claims are instances of poor weather or acts of nature in which neither driver did anything explicitly wrong to cause an accident.
Premises Liability
Premises liability is another major category of personal injury law. This area encompasses any situation in which a building owner or manager fails to follow safety laws for patrons and allows an accident to occur. Slip and fall cases are a common example of premises liability.
It is important to remember that a building's manager or owner must follow laws that prevent visitors from getting hurt. Some of these laws include:
Keep walkways clear of debris or tripping hazards.
Keep floors clean and dry.
Ensure that railings and safety equipment are in proper condition.
Maintain the facility's escalators, elevators, etc.
Sufficiently illuminate dark areas.
Post signs when there is a hazard that cannot be eliminated immediately.
If a business owner or manager fails to follow these laws, they are neglecting their duties and can be held responsible through a personal injury case.
Medical Malpractice
Another major category of personal injury law is medical malpractice. These cases occur any time a medical professional neglects their responsibility to care for their patients. Examples include:
Failing to properly bathe or clean a patient
Operating on the wrong limb or patient
Failing to diagnose a condition that should have been obvious
Diagnosing a condition without proper proof
Administering the wrong medication
Leaving surgical tools inside the body cavity after an operation
Because we trust medical professionals with our health, it is especially important for them to behave professionally and carefully. When they do not, they can be held responsible for the damage that occurs.
Wrongful Death
Unfortunately, individuals do not always survive a personal injury claim. When an accident occurs that leads to the death of the victim, the family may be able to take action through a wrongful death case. These claims proceed similarly to personal injury claims, except that the family of the victim is filing the claim rather than the victim themselves.
Although a settlement cannot bring an individual back, it can help a family to recover and move forward. A wrongful death settlement may help to cover:
Medical bills that accumulated from the accident
Burial and funeral expenses
Lost income that the deceased would have earned
Compensation for pain and suffering
Many families need this compensation to financially recover from a sudden death. Few can afford these costs out of pocket.
Contact Easton & Easton
Our team at Easton & Easton is here to help you with any personal injury claim that you may have. We are experts in this area of law and can provide you with the best personal injury legal advice in Las Vegas. Regardless of the type or severity of the case, we are here to ensure that you get the compensation that you deserve.
For more information about our services and what we can do, contact Easton & Easton today.
Reasons To Hire Us

THE EASTON DIFFERENCE
As a multi-generation family of personal injury attorneys with more than 100 years combined experience, we intimately understand the chaos left in the wake of a catastrophic accident or wrongful death. We understand what you are going through and, because of the familial nature of our firm, we are uniquely able to synergize our efforts to tell your story and achieve remarkable results. Let our family help yours.
Case Results
More than $100,000,000 recovered in the past 5 years
Personal Injury
The Easton Law Firm has successfully represented thousands of people in personal injury claims and litigation against all of the largest insurance companies in America.
Premises Liability
Slip-and-fall accidents are often complex cases because of the high standards of evidence. We can help you recover money damages for injuries suffered as a result of an accident at a private residence, retail store or public property.
Motor Vehicle Accidents
We have years of experience helping people recover compensation for medical treatment, lost earnings, and pain and suffering related to car, truck and motorcycle accidents.
Catastrophic Injuries and Death
Our experience includes settlements and trial victories in cases involving life-ending and life-changing accidents, including severe neck and back injuries, brain injuries and burn injuries.
Southern California's
Best Lawyers
We take winning cases for our clients seriously and the awards with honor, as our passion for protecting the injured in Southern California is recognized by some of the most notable leaders and publications in the legal industry.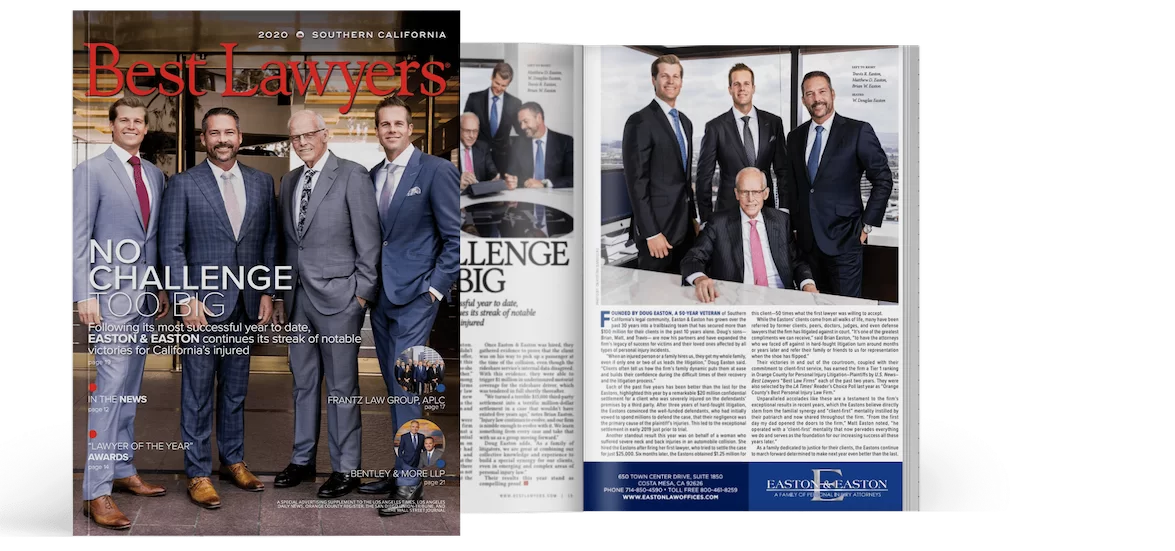 Firm Awards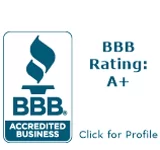 The superior client service Easton & Easton provides has earned the firm an A+ rating from the Better Business Bureau.
Easton & Easton is honored to have been chosen anew each year since 2014 by U.S. News & World Report and Best Lawyers as one of the "Best Law Firms" for the Southern California Metro Area.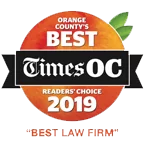 Easton & Easton is honored to have been chosen by the LA Times Reader's Choice Poll as "The Best Personal Injury Law Firm in Orange County" for 2018.
Doug and Brian Easton have been selected as Top 100 Trial Lawyers for California each year since 2014 — honors given to less than 1% of attorneys.
Doug and Matt Easton have each been chosen as one of The Best Lawyers in America for Plaintiff's Personal Injury Litigation. Best Lawyers lists attorneys who have earned selection through exemplary legal work that attracts the notice of their colleagues. Lawyers cannot buy their way onto this list.
Brian and Matt Easton were recently honored for their efforts in securing a $1,850,000 verdict for a client in 2016, which was selected as one of the Top 50 Personal Injury Verdicts in California by TopVerdict.com.
Doug and Brian have each been selected by Super Lawyers, an honor given to less than 5% of attorneys. Matt Easton has been selected among Super Lawyers' Up-and-Coming Top 25 in Orange County and Top 100 in Southern Califonia, an honor given to less than 1% of attorneys under 40 years old.
Easton & Easton is honored to have been chosen as one of the "10 Best Personal Injury Law Firms" in all of Southern California" each year Since 2015 based on client satisfaction — one of the highest honors we could ever hope to achieve.
Easton & Easton received the "People Love Us On Yelp" award in 2016 due to the exceptional client satisfaction reviews given by our clients over the years.

Doug and Matt Easton have each been featured as Premier 100 Trial Attorneys for California since 2015 — honors given to less than 1% of attorneys.

Brian and Matt Easton have each earned lifetime appointment to the Multi-Million Dollar Advocates Forum — The Top Trial Lawyers in AmericaTM through the results achieved for their clients. This is an honor given to less than 1% of attorneys in the United States.
Doug Easton has held the "AV Preeminent" Rating for over 30 years and Matt Easton received this prestigious distinction in 2015. The "AV Preeminent" rating is the highest possible rating for both legal ability and ethical standards, and is based on the legal profession's oldest peer review rating system, dating back to 1887.
Doug, Brian, and Matt Easton have all been chosen as one of the "10 Best" Personal Injury Attorneys in Southern California each year since 2015 based on client satisfaction, an honor given to less than 1% of personal injury attorneys - and Easton & Easton houses three of them.
Brian Easton was selected to the American Board of Trial Advocates (ABOTA) in 2015. ABOTA is one of the most premier associations of trial attorneys and judges, requiring a certain number of jury trials as lead counsel and approval by a majority vote of the ABOTA board.
Matt Easton has been selected each year since 2014 as one of the Top 40 Trial Lawyers Under 40 for California by The National Trial Lawyers — an honor given to less than 1% of attorneys.
Doug and Matt Easton have each been chosen as one of The Best Lawyers in America for Plaintiff's Personal Injury Litigation. Best Lawyers lists attorneys who have earned selection through exemplary legal work that attracts the notice of their colleagues. Lawyers cannot buy their way onto this list.

Both Doug and Matt Easton have been selected as Top Personal Injury Attorneys by Avvo with scores of 10 out of 10 based on their skill, experience, results, peer evaluations, and client reviews.
Matt Easton has been selected as one of the Top 10 Personal Injury Attorneys Under 40 in California for 2015 by the National Association of Personal Injury Attorneys — an honor given to less than 1% of personal injury attorneys under the age of 40.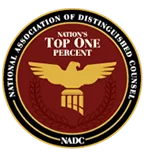 Doug, Brian, and Matt Easton have all been selected by the National Association of Distinguished Counsel among the Nation's Top One Percent of Attorneys each year since 2017.
Your Story Is Important To Us.

CALL US SO WE CAN HEAR IT.
"We look for the human story behind every injury or wrongful death. We prepare our cases for trial; reaching out to the jury with the most compelling evidence possible for the best verdict possible. Insurance companies know this and come to the table prepared to negotiate in good faith. Call us to see how we can turn your story into fair compensation."
Partner W. Douglas Easton
The Easton & Easton College Scholarship
Easton & Easton, LLP is proud to announce a scholarship opportunity to support the advancement of post-secondary education. By investing in the betterment of self, individuals are able to give back to their communities. As Benjamin Franklin wisely stated, "An investment in knowledge pays the best interest." This year we will be awarding a $1,000 scholarship to a current college or trade school student, or a high school senior accepted into and soon to enter a college or trade school.
To be considered for the scholarship, you must meet the following requirements:
Applicants must be a U.S. citizen.
Applicants must be currently attending or accepted to an institute of post-secondary education (college, university, or trade school).
If you are currently attending a college or trade school, you must have a cumulative GPA of 3.0 or higher.
If you are currently in high school and have been accepted to a college or trade school, you must have a cumulative high school GPA of 3.0 or higher.
Application Instructions:
Before midnight Pacific Time on December 31st, submit an email containing the information below to scholarships@eastonlawfirm.com.
Your name, phone number, and email address.
A 750 to 1,000-word essay in Word, PDF, of Plain Text format on the following question: What are the top three skills you are working to cultivate to help you achieve your career goals?
Proof of enrollment in or acceptance to a college or trade school.
Your most recent transcript.
Rules and other important information:
Scholarship funds will be issued to the winner in the form of a check payable directly to the student's college or trade school.
Scholarship funds may be used for tuition and school-related expenses only.
If you have previously received a scholarship through this program, you are not eligible to apply again.
Scholarships will be issued based on merit and essays will be reviewed for writing quality, grammar, punctuation, and creativity.
Coming out of my first auto accident as an adult, a very difficult and scary time to navigate and understand, I was so incredibly thankful to have been put in contact with Easton & Easton. I honestly was lost with how to handle paperwork, doctors, medical costs and what next steps were, and from the moment I spoke with Travis Easton and my case manager Katie, my mind was put at ease. They have made the entire process stress free for me as I recovered, and I am so grateful for them and their genuine care for my case. Communication from the start has been fantastic, especially making clear what my expectations for the entire process would look like, and I truly believe they have my best interest at heart. 100% I would recommend their firm for anyone that is needing representation!
My experience with Easton & Easton has been amazing! Gabriel Mendoza and my case manager Katie have been so helpful and taken so much stress off my plate. They've been super informative and honest and given me very clear expectations. They've taken such a terrible experience (my accident) and eased my mind about the outcome. I can't thank them enough!!
Ive used them twice and never been disappointed
The Easton & Easton Law Firm is amazing! The entire team is very helpful and caring. They were always there to answer all my questions. They directed me through the entire process and stayed with me every step of the way. This team is outstanding and were wonderful to work with. Because of the tremendous effort they put on my case they were able to win my difficult personal injury case. I couldn't have asked for a better law firm to handle my case. They are the Best! Thank you for your patience, professionalism, & guidance! I definitely recommend this firm to handle your case. They go out of their way to fight for your rights. THANK YOU…
I could not be more pleased with the services provided by the Law Offices of W. Douglas Easton. The senior partner Mr. Easton took the time to meet with me and my wife while I was still in the hospital, where he gave my family hope that there was light at the end of a very long, and very dark tunnel. Matt Easton then worked my case, and because of his dedication, experience and expertise I received a settlement that was larger than I EVER thought possible. It was truly astounding! Matt and the entire team at Easton & Easton looked out for me throughout my recovery, and in the end they gave me my life back. Five stars is not enough. Thanks Matt! Thanks Easton & Easton!
Brian and everyone at Easton and Easton are simply the BEST at what they do. Brian is thorough, easy to talk to, and truly cares about his clients. If you want a family of attorneys with perseverance and determination to fight for you, give Easton and Easton a call. I am glad I did.
What an amazing law firm, talk about going above and beyond to make such a painful experience go so well. I have referred a co-worker and a family member to them as well and everyone had such a great experience as I had.
I can't say enough amazing things about my experience with Travis Easton at Easton & Easton. Travis and his entire team (Katie, Amy, Dee, Michelle, & Araceli) are phenomenal. It provided me a lot of comfort to know I was being so well taken care of. I was especially impressed that every document for the case was perfectly written and specific to me. Nothing was generic, which shows the level of care and attention they put into each individual case. I had such a great experience and would highly recommend Travis Easton and his firm to anyone going through a personal injury. Travis took a bad situation and made the best of it for me. Thank you again, I'm forever grateful!!

-Allee
Retaining Easton and Easton was one of the best decisions I've ever made! From the initial consultation to our final meeting, they were nothing short of exceptional. I was forced to retain their services after firing my previous attorney for not handling the case properly. I dealt with Gabriel and Brian (partner) exclusively throughout the case. They did as promised and were great communicators throughout the entire process. I will recommend them to anyone I know going through a personal injury case. They were ultimately able to untangle the mess caused by my previous lawyer and get a result that I was extremely happy with. Their staff is exceptional as well and provided top notch customer service. Amera was also extremely helpful and easy to deal with as well.
I was in a pretty bad car accident and decided to have Easton & Easton represent me, Travis Easton to be specific. Travis Easton and his paralegal made the whole process effortless. They were so understanding and helpful! The entire thing was a gigantic mess, yet Travis managed to make it run like clockwork. I would HIGHLY recommend Easton & Easton! If you are ever in need of a personal defense attorney Easton & Easton is the firm to represent you!
They are the best law firm in Orange County period. Choosing them to represent me was the best decision of my life.
My life changed in a matter of seconds after a catastrophic spinal cord injury that left me disabled. Brian Easton and his team worked on my case non stop for 3 years and provided me the justice I deserved. I couldn't have been more content.
I was treated with utmost respect and I felt like I was being represented by a close family member. The responses to my questions were quick and clear. What E & E has done for me is phenomenal.
My sincere thanks to Brian, Matt, Travis, Doug, Gabriel and Amera. They are what they are because of their dedication to provide high quality and professional service to their clients.
Brian Easton and his team, Gabe Mendoza and Amera Hajali, helped me during a very difficult time in my life. I had a significant injury from a car accident, and wound up seeking out Easton & Easton when I was having difficulties getting help from my doctors. The Easton team took a lot of stress off of me while acting as my advocates to help me get the care I needed, and saw my case all the way through to a healthy settlement.

They are the BEST!
I have nothing but good things to say about Easton and Easton. Brian handled my case professionally and communicated with me effectively throughout the process. He made sure that the process was effortless and as hands free as possible. This was super important for my busy schedule. I highly recommend Easton and Easton if you are ever found in a situation that you need an attorney.
I would highly recommend Easton & Easton.
I was rear ended on my home and pushed into a semi-truck. I was not sure how to go about even using an attorney.
Brian, Gab and Amera were so good about helping me thru the process and representing me.
I was able to concentrate on getting myself better knowing they had my back, taking care of the details and keeping me informed along the way
The best Law firm by far. I would highly recommend Easton & Easton, LLP and ask for Gabriel Mendoza and staff. He and his colleagues did and exceptional service. Thank you for everything. Job well done!