Car accidents happen every day for many reasons in California, and most drivers who experience these incidents must file insurance claims to recover their losses. State law requires every licensed driver to have auto insurance coverage that meets the state's minimum coverage requirements. However, California has one of the highest rates of underinsured and uninsured drivers in the entire country.
It's natural to worry about the damages you suffered and feel uncertain about how you can recover when you or a loved one has suffered serious injuries in a motor vehicle accident in California. When reliable legal counsel assists you, you are far more likely to maximize your total recovery. Easton & Easton provides compassionate legal counsel for motor vehicle accident claims to clients throughout southern California, and our team wants you to know how to approach a car accident claim when insurance isn't available.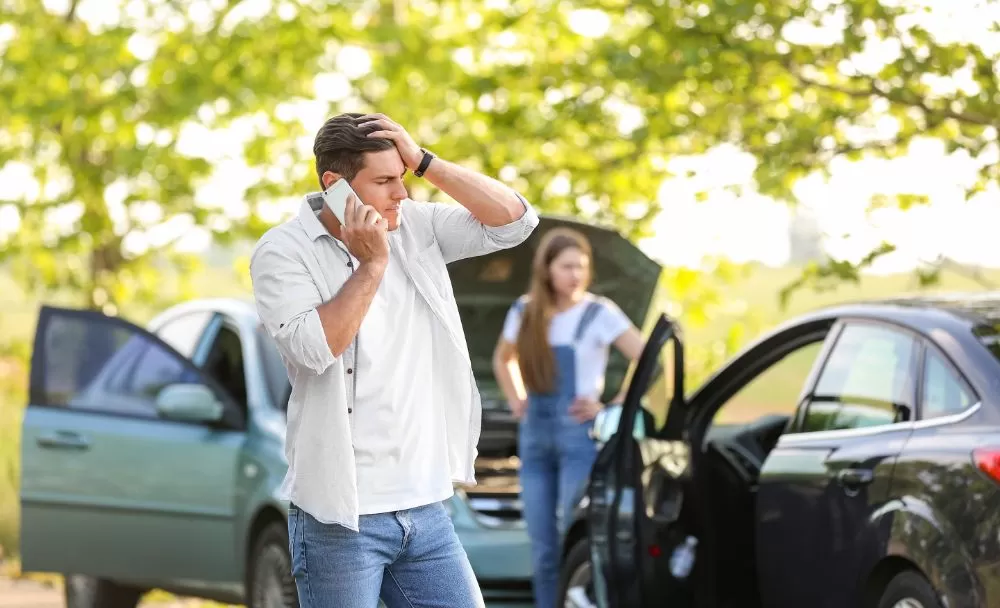 Underinsured/Uninsured Driver Accidents
State law requires all drivers to have at least $15,000 in bodily injury liability insurance coverage for a single person injured in an accident they caused. Their policy must also extend this coverage to at least $30,000 in bodily injury liability coverage for all parties injured in the accident. The auto insurance policy must also provide at least $5,000 in property damage liability coverage. Once you have identified who caused your accident, you must obtain their insurance policy details and file your claim very quickly.
These coverage limits may seem like they should be enough to fully cover the damages caused by a negligent driver in California. Unfortunately, the reality is that some drivers face unexpected complications with their auto insurance claims, and some drivers do not have the option of filing insurance claims against the drivers who caused their accidents.
While not required by state law, drivers are strongly encouraged to consider purchasing underinsured/uninsured driver coverage with their standard insurance coverage. This type of coverage comes into play when an underinsured or uninsured driver causes an accident, allowing the victim to claim against their own insurance coverage for some immediate relief. Typically, they are able to do so without incurring any penalties. However, if the at-fault driver does not have insurance, and you have not purchased underinsured/uninsured driver coverage, you will need to proceed with a personal injury case against the driver responsible for causing your accident.
Compensation Available in Personal Injury Claims
State law allows the plaintiff in a personal injury claim to seek full repayment of all the economic losses the defendant causes, as well as compensation for their pain and suffering. Your attorney can assist you in recovering compensation from an underinsured or uninsured driver with a personal injury case. This means they will help you secure as much as possible from your insurance claim or when insurance isn't an option.
Your claimable economic losses in a car accident case are likely to include medical treatment costs, ongoing medical expenses for treating severe injuries, property damage, lost wages, and lost future earning potential if the defendant has impaired your ability to work and earn income. Most people are able to identify some immediately recognizable losses, but there are many who struggle to accurately define the long-term effects of their experiences.
When you choose Easton & Easton to help you recover from your recent car accident, we will guide you through the auto insurance claim process if filing such a claim is a viable option. If not, our team is prepared to help you construct a solid personal injury claim against the driver who injured you, seeking the maximum amount of compensation possible under California law.
FAQs
Can a Driver Go to Jail for Causing an Accident Without Insurance?
If a driver does not have auto insurance coverage and causes an accident, they will be solely responsible for repaying the injured driver's damages. This means that they cannot rely on insurance to cover any of these economic liabilities, and they will also face legal penalties from the state for failing to abide by California's auto insurance laws. Jail time is only possible for an at-fault driver if they caused the accident with intent to harm or through willful violation of a California law.
How Does Car Insurance Work When You Are Not at Fault in California?
California's fault rule for car accidents dictates that the driver at fault for an accident assumes liability for all resulting damages from the accident. This means that you can file a claim against their auto insurance policy to seek compensation for your damages. However, if they are not at fault, you can only file a claim against your own auto insurance policy if you have purchased underinsured/uninsured driver coverage.
What Is the Penalty for Driving Without Auto Insurance in California?
If a driver causes an accident without insurance, they will have no financial safety net to cover the injured driver's damages. Additionally, they will face various penalties that could potentially include fines, impoundment of their vehicle, and loss of their driver's license until they can produce proof of insurance coverage.
Should I Hire a Lawyer If an Uninsured Driver Hurt Me?
If your recent accident happened because of an underinsured or uninsured driver, it is essential that you speak with an experienced attorney as soon as possible. Since you will not have the option of seeking compensation through an auto insurance claim, you will need to proceed directly to filing a personal injury claim against them. While it's technically possible to attempt this on your own, you have a much better chance of success when an experienced attorney is working on your case.
Easton & Easton strives to help our clients throughout southern California with their personal injury claims as efficiently as possible. We look for every available avenue of compensation open to our clients, assist them in proving fault for their injuries, and guide them through the legal proceedings necessary to ensure accountability. Whatever your case entails, our team can help, so contact us today and schedule a case review to learn how our firm can empower your recovery efforts.